Stichting Spiegelhol dankt de volgende filosofen, wetenschappers en kunstenaars voor hun deelname aan Spiegelhol 2009:
Rense Nieuwenhuis en Rik Linssen, Liesbeth Verhoeven, Anselma Bueler, Wessel Keizer en Piet den Blanken, Johanna Schweizer, Loek Grootjans, Marijke Hooghwinkel, Hanneke Barendregt, Anneke Hendrikx, Etienne Reijnders, Adriaan Muller, Eric Verdaasdonk, Ester Dobler, Lex Donker, Guy van der Mast, Rob Wesolek, Rebecca Nelemans, Peter de Jaeger en Lilian Joosen, Careyn Thuiszorg Breda, Miriam van Reijen, Therese Hermans, Theaterwerkplaats Tiuri, Hermine Weggen, Coby Bongers, Emile Jonkers, Hannes Vennik, Pieter Vastbinder, Sini, Leonie Ruissen, Dick van Riel, Psy Café, Coen Simon, Verhalenboerderij Arcadia, Jan Frijters, Marleen Andries, Tom Rebel, Rika Lackin, Fokje Rijpma en Rinus Hoondert.
MEER OVER EN VAN DEELNEMERS 2009
Anselma Bueler (schilder en filosoof)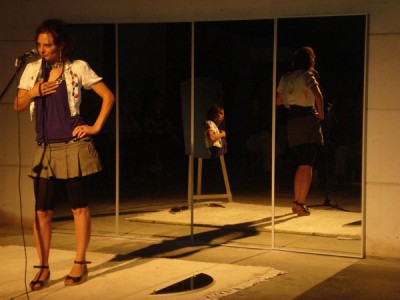 "Als ik in de spiegel kijk dan zie ik een vrouw die iedere dag opgewekt de neerslachtigheid neerslaat. Kunst, de manier om jezelf te herontdekken, schilderen met beeld, en associëren, het is in ieder geval te proberen.
Identiteit, zij die door de zure appel heenbijt, zich ten dode nedervlijdt, en dan na wachten en een innerlijke strijd, weer oprijst en verder gedijt.
Van tijd tot tijd doodgaan houdt je jong, je weet waar je je bevindt, waar je begint en waar je ophoudt. Hoe leidt je het leven als een dode? Anselma bijt in de zure appel, verslikt zich en braakt teksten uit! Niks brandt zo in de maag als puur liefdesverdriet."
Ester Dobler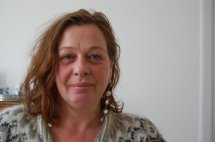 Mijn schaduw
spiegelbeeld van mijn schaduw
zonder licht geen spiegeling
zonder licht geen schaduw
ik en mn schaduw
hoe spiegel ik mezelf in het licht van mijn schaduw
kan mn schaduw mn spiegelbeeld zijn
schaduw geeft alleen contouren aan
vervaagt
vervormd
door de achtergrond
reflecteert mn schaduw
mn grenzen
mn mogelijkheden
Eric Verdaasdonk
You and I seem the same.!
Jij en Ik.
Jij en ik gelijken op elkaar.
Een ander mens ziet jou zoals je jezelf ziet in de spiegel: een Imitatie van het orgineel.
Zolang de mens zichzelf toont, zoals hij zichzelf wil tonen, zal men altijd een Imitatie zien van het orgineel.
Als je jezelf toont zoals je jezelf moet tonen, dan zal men het orgineel zien !
Daar wij allen waarachtig zijn, uit de Waarheid voortkomen, zal men in de Waarheid het orgineel zien en alleen in de Waarheid zijn geluk vinden.
De rest is verstrooiing om zichzelf niet te willen spiegelen aan de Waarheid.
"Alle verwarringen in de wereld hebben slechts een oorzaak, de mens kan niet het nodige van het onnodige onderscheiden, waardoor hij het nodige voorbijgaat en zich bezighoudt met het onnodige en daarin verward en verstrikt raakt." ( J.A.Comenius. Unum necessarium.)
Rense Nieuwenhuis en Rik Linssen
Sociologen spiegelen sprookjes: Over identiteit en de stiefmoeder van sneeuwwitje
"Spiegeltje, spiegeltje aan de wand, wie is de schoonste in het land?" Aan die bezwering, en vooral aan het antwoord dat de spiegel haar gaf, ontleende de stiefmoeder van sneeuwwitje haar identiteit. Zij was de mooiste van het land! Op een dag, echter, toonde de spiegel niet haar gezicht, maar dat van sneeuwwitje. De stiefmoeder belandde in een identiteitscrisis: als zij niet meer de mooiste was, wie was ze dan nog wel? De stiefmoeder ging aan het werk om haar identiteitsprobleem aan te pakken: ze gebood de jager, om het probleem Sneeuwwitje uit de weg te ruimen.
We weten allemaal dat die jager zijn taak verzaakt heeft. Maar, wat had de stiefmoeder anders kunnen doen? Hier heeft de sociologie een aantal gedachten over.
Mensen doen van alles – bewust én onbewust – om hun eigen identiteit te ontwikkelen en te onderhouden. Ze doen dit in relatie tot anderen: ze werken dus ook aan ook hun groepsidentiteit. Sociologen Rense Nieuwenhuis en Rik Linssen vragen zich af wat het zoal is, wat mensen doen wanneer ze niet tevreden zijn over hun identiteit. De sociologie heeft daar een mogelijk antwoord op, en zij zullen dit antwoord illustreren aan de hand van actuele maatschappelijke gebeurtenissen in
de samenleving. Zij betogen dat hoewel we geneigd zijn om ons te identificeren met de heldin Sneeuwwitje, ieder van ons in feite veel meer op haar stiefmoeder lijken.
Loek Grootjans' deelname aan het Spiegelhol 01 2008 bestond uit een installatie met de titel Department Unveiling.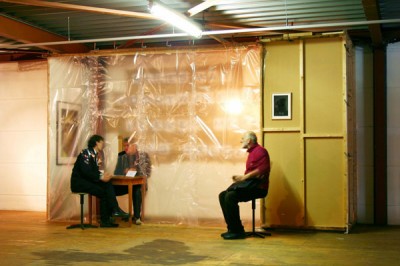 Het was een geïmproviseerde ruimte welke op gezette tijden dienst deed als adviesburo.
Grootjans nam plaats in het bureau en aan een ieder die dat wilde werd raad op elk willekeurig gebied gegeven.
De raadgeving was een moment van reflectie, bespiegeling en daardoor 'een onthulling'.
Tijdens Spiegelhol 02 2009 wordt in dezelfde trant een installatie gebouwd met als werktitel Speakerscorner voor de kleine individualist. Het thema 'IDENTITEIT' van spiegelhol 02 ligt ten grondslag aan dit werk.
Wessel Keizer
Piet den Blanken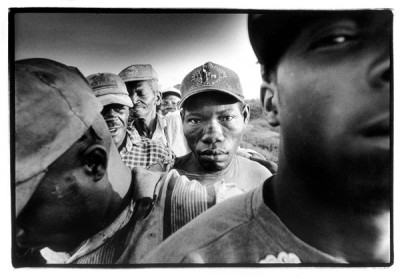 De fotografen Piet den Blanken (1951) en Wessel Keizer (1949) spiegelen hun werk tegenover elkaar waarbij de reflectie een totaal tegengesteld beeld oplevert. Keizer maakte poetische semi-abstracte foto's met magnifieke reflecties vol prachtige kleuren in zijn woonplaats Breda. Den Blanken laat harde klassieke documentaire opnamen zien van armoede, uitbuiting, oorlog, prostitutie en overlevingsstrijd aan de andere kant van de wereld (Latijns-Amerika) in confronterende zwart-wit-foto's. Het is aan de kijker om uit te maken waar diens identiteit ligt, dichtbij, ver weg, of juist bij allebei.
Johanna Schweizer
Johanna Schweizer doet mee met een speciaal voor het project spiegelhol gemaakt textiel beeld. In de haaktechniek heeft zij een mensbeeld gemaakt, waarin op cruciale punten spiegels zijn verwerkt. Het werk is driedimensionaal en transparant. Een individueel spiegelbeeld.
Liesbeth Verhoeven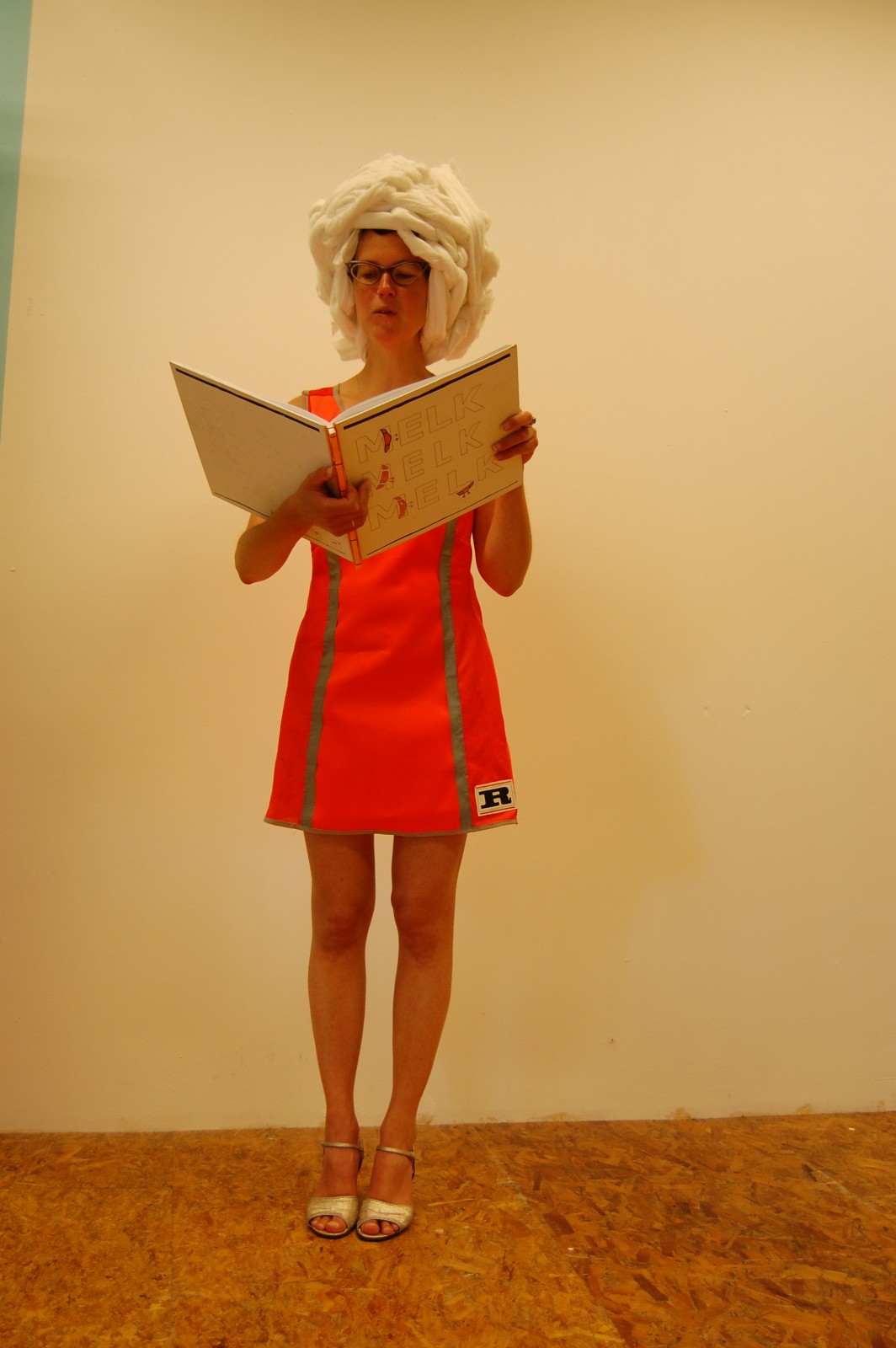 Anneke Hendrikx
IDENTITEIT
Ik ben het middelpunt van de wereld, want de wereld begeeft zich om mij. Mijn omgeving, alle ontmoetingen, alle ervaringen, alle levensfasen, hebben invloed op mijn innerlijk en vormen grenzen, lagen, om mijn "zelf", mijn identiteit . Bepaal ik de grenzen of laat ik die bepalen door de mij omringende wereld? 
Mijn identiteit is afhankelijk van anderen, ik  "schaaf" me aan anderen, ze zijn de spiegel om dat wat bij mij hoort/niet hoort  te kunnen vinden. Zonder spiegel van de buitenwereld mis ik zelfs iedere blik op mijn binnenwereld.
Dit ben ik, een (vaste?) kern, steeds in beweging.
Marijke Hooghwinkel
video_film-registraties_spiegelhol-.B.E.T.E.K.E.N.I.S.

Danny van der Laan
Schilderkunst, performance-art, videokunst, muziek en songwriting.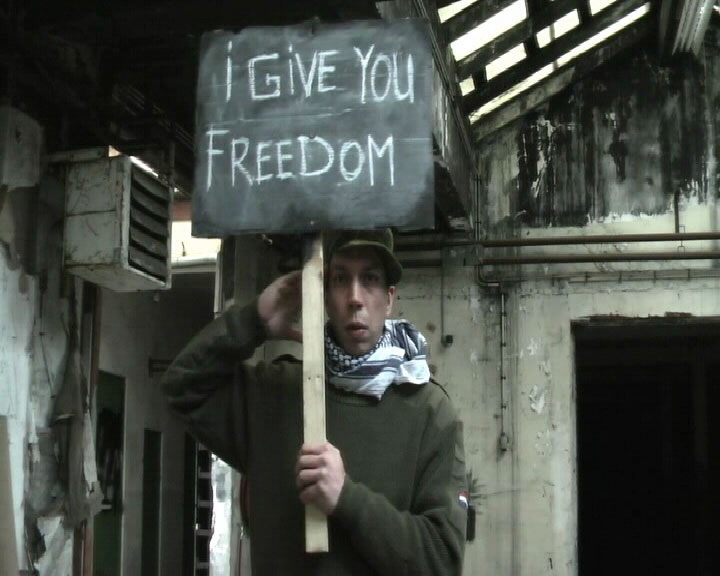 De twee korte films:" I Give you freedom en Wonderland", maken deel
uit van een doorlopend videokunst/performance-art project.
De serie gaat over een man die worstelt met zijn individualiteit en identiteit.
Hij kan niet langer betekenisloos en apatisch zijn en verkent de grenzen van zijn persoonlijke en geestelijke vrijheid.
Hij kan het niet langer aanzien hoe hij verdwijnt, in een zwijgende massa, die alles voor lief neemt en nergens meer voor opkomt.
Een massa die zijn identeit laat bepalen door bv.: de overheid, regering, godsdienst, en media.
Daarom gaat hij de straat op om te protesteren, demonstreren, statements te maken en zijn mening en gedachten te ventileren.
De acties die hij uitvoert dienen zijn geestelijke en fysieke aanpassing in de werkelijkheid.
De uitvoering van deze acties spiegelen hem uiteindelijk zijn identiteit en individualiteit voor. Ze geven hem betekenis, in zijn werkelijkheid.
De twee films die vertoond worden hebben als gemeenschappelijk
 thema: mijn Nederlandse identiteit.
http://www.youtube.com/user/mcsouvlaki
http://www.dannyvanderlaan.exto.nl/